Start program and Search Options
Start Active@ Password Changer:
from the Start menu in Windows or Windows PE 3.1 Environment
from the command line:
Windows: go to the directory where software is located and type:

> PasswordChanger.exe 
Windows PE 3.1: Once booting in Windows PE, Password Changer should boot at start up. But if you find yourself in the need for it later, click on
Start Menu > Programs

Linux: go to the directory where software is located and type:


 > sudo ./PasswordChanger

In Linux software must be launched under Super User account
Welcome screen appears:
Program starts and you can read short explanations, on the next page of the Password Changer wizard will show you the following options: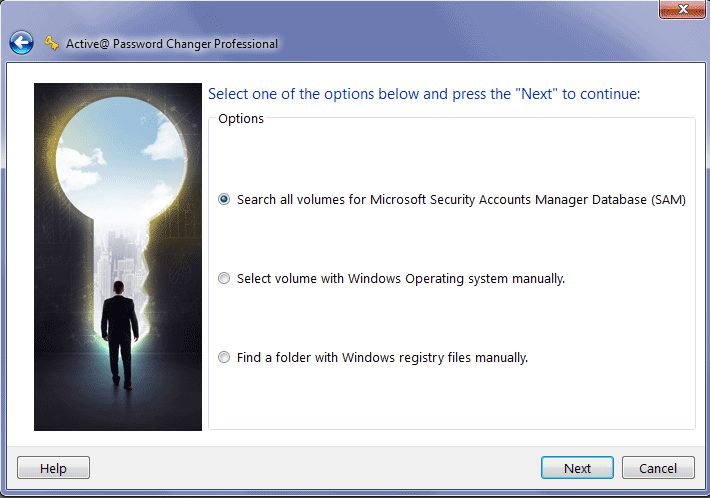 In order to reset the password we will need to access the registry hive called SAM (Security Account Manager) where the particular password is being stored. You can either choose a particular logical drive to search for SAM database on, or choose to search on all hard disks and logical drives.
If it is impossible to reach a Windows system drive directly you can copy SAM hive file from the "C:/Windows/System32/Config" folder to a flash drive (or other external drive), then attach this drive to you computer and reset the password in this SAM file with the third option. Click Next to go to the next step.
If you choose the second option, you need to specify the drive to search SAM database on:
USB Drive or blank CD/DVD must be inserted and chosen explicitly in the first step, before proceeding to the next step.
Copying a SAM registry hive from a system partition and pasting it to a flash drive is possible only if you access that partition using the other system, otherwise the pasting will be denied.
Click Next to go to the next step. If you choose the second option, you will need to specify the drive where search for SAM database should be conducted :
Choose a drive and click Next to go to the next step.
SAM Selection
SAM (Security Access Manager) is a database where information about local users, their rights and passwords is stored.
If several SAM databases have been found - you need to choose a proper an adequate SAM database in order to properly reset proper account password and attributes. Normally SAM is located on a drive where operating system is installed in the folder: \WINDOWS\SYSTEM32\CONFIG.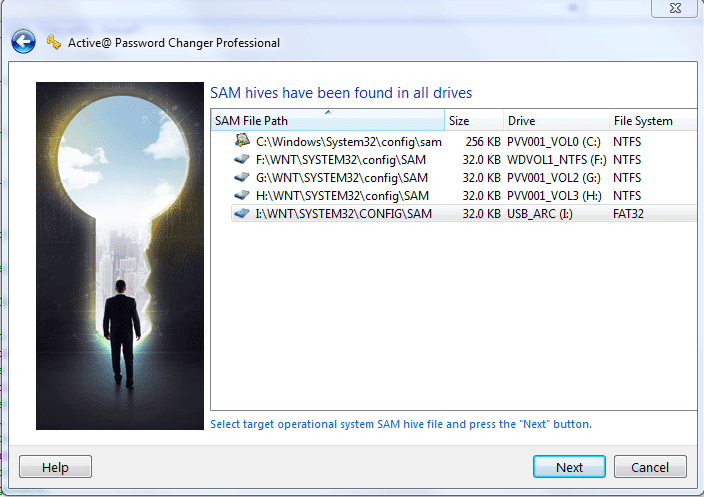 Please do NOT try to change account attributes for the operating system currently running (which SAM is located on the same drive from where the Windows is started). It is not possible, see the note below. To change account attributes and reset the password you either need to boot from bootable CD contatining Windows PE, or attach another HDD having Windows installed and boot from there.
Important: As long as you need to change system account attributes, drive where SAM is found must be locked exclusively before changing. Exclusive lock means that except Active@ Password Changer, no one (including Windows) has full access to the account. This also means that if you try to change local account attributes for the system currently running, you will NOT be granted exclusive access to the drive and will not be able to reset account attributes. The following messages might appear: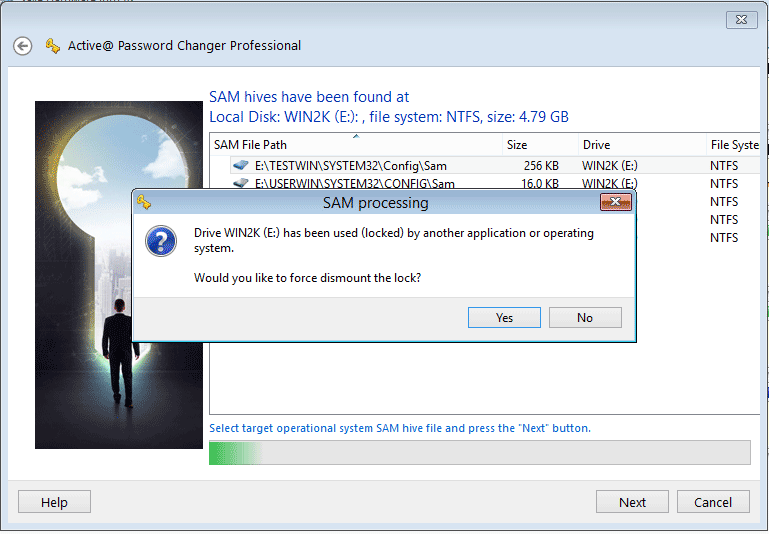 or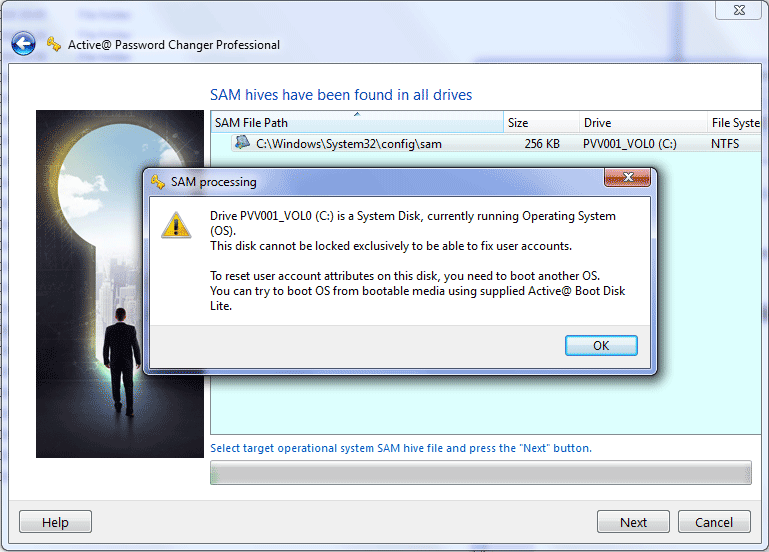 If the selected drive cannot be unlocked for some reason, current system drive is used by operating system, for example, User Account parameters will be opened in Read Only mode.
Local User Account Selection
After you've chosen SAM database you will see the list of local user accounts with descriptions: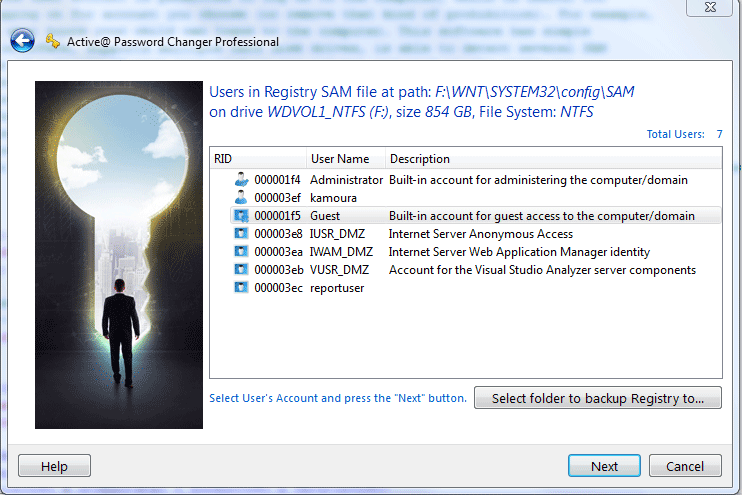 Choose a Local User Account to reset password and attributes for and click Next to go to the next step.
| | | |
| --- | --- | --- |
| Primary Administrator's account (even if renamed) is always placed on the first place and has the icon. | | |
| Other Administrator accounts are marked with a blue icon | | |
| Non-Administrator accounts (Users, Power Users, Guests, etc...) are marked with a white icon | | |
Disabled/Locked accounts
are marked with
a cross
.
Select Registry SAM file Backup folder
If you like to save backup copy of Registry SAM file, you have to press Select folder to backup Registry to… button and select a desire save place such as external HDD or Flash drive: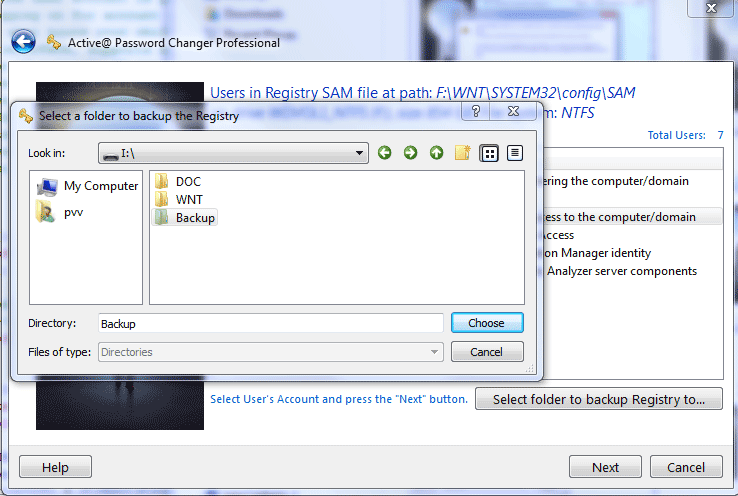 Path to selected backup will be pointed at the bottom of this page and on the next step where you can change selected account parameters.
How to Restores Registry SAM from Backup
If your system became inoperable after you use Active@ Password Changer you can roll back all changes to the square one. To do this you have to:
Boot your computer with our Active@ Boot Disk (with Password Changer).
Find the folder "C:\WINDOWS\System32\config".
Move file "SAM" (for example SAM20160315230333) from this folder to any temporary folder - "C:\Temp" for example.
Copy your backup file from the flash drive (or other storage where you have it) to folder "C:\WINDOWS\System32\config"
Rename backup Registry file to SAM (just remove numbers at the end of the file name).
Reboot your computer.
Change Account's Password and Attributes
After you've chosen the Local User Account you will see account description and attributes: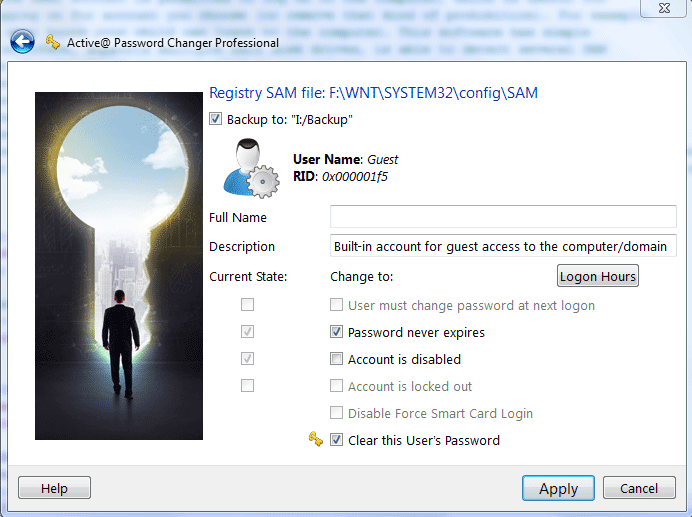 In the left column you can see the account's current existing attributes.
In the right column you can set new values for these attributes. Default values are acceptable for most cases and guarantee to be able to logon to the system without password. To reset Account's password - make sure that Clear this User's Password option is selected.
Click Apply to store changes back to the SAM database. You'll be asked for action confirmation: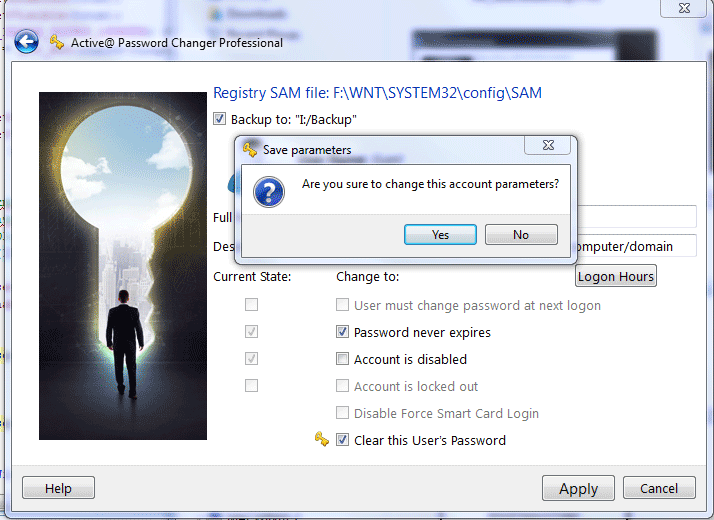 Click Yes to change the SAM file and go to final wizard page: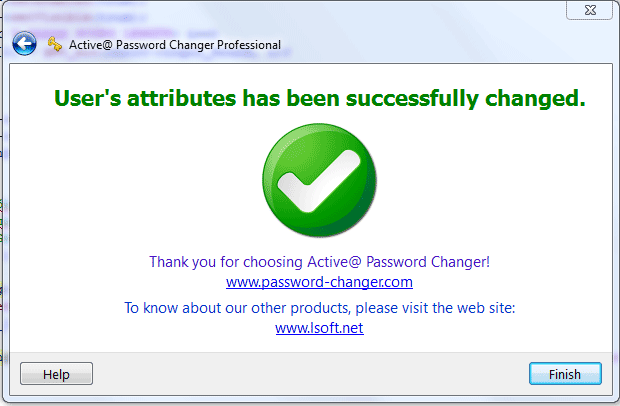 Click Finish to finish the Wizard and exit the program.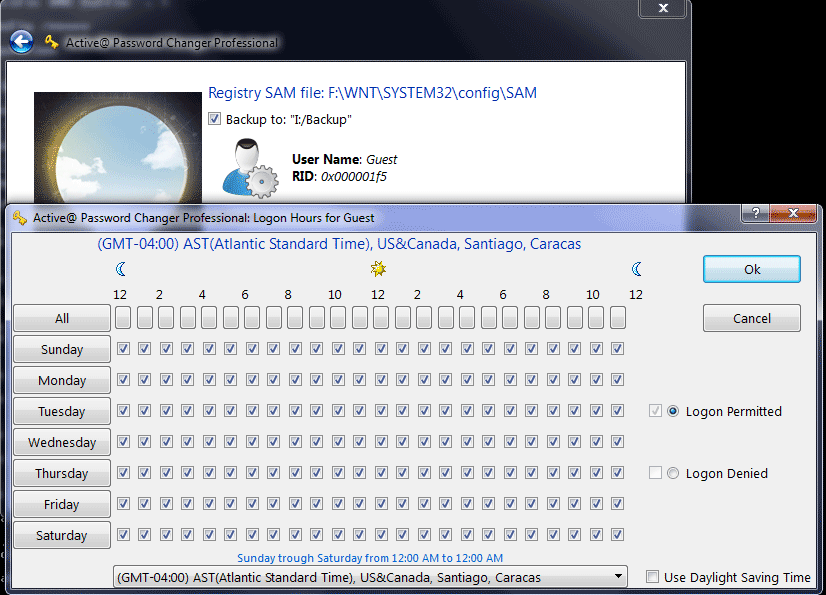 Specify logon hours, click OK to close the dialog and Save account's attributes.
If you set path for Registry SAM backup file and set mark in checkbox Backup to: the final page will show full path and name for the backup file.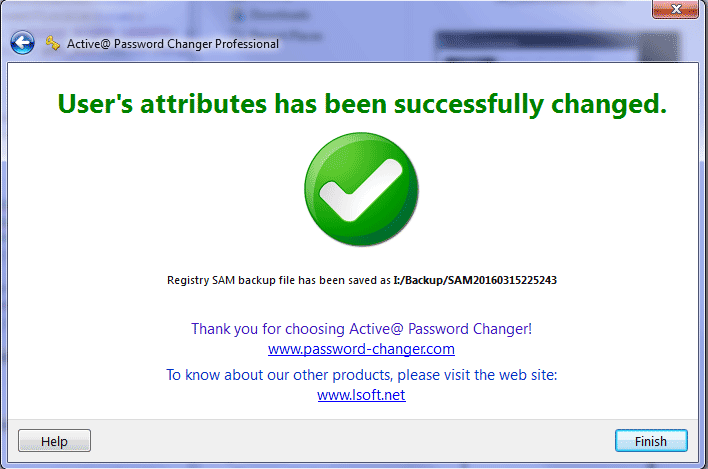 Backup file name has a timestamp at the end: YYYYMMDDhhmmss where YYYY – year, MM – month, DD – day, hh – hour, mm – minutes, ss – seconds when this backup SAM file was saved.